Like probably all of you, I want to be more organized. Like probably all of you, I have tried many different ways of doing this. Like probably all of you, I have failed at
most
all of these attempts. I have tried the physical planner/binder approach. The problem with this is that if the binder is closed, I don't see what I need to remember =) If I keep the binder open, it takes up half of my desk, and even then, only one pages is opened at a time. I have tried the digital calendar/tasks method, but again, if I'm using something else on the computer then I don't see my calendar. Out of sight, out of mind I guess. I thought if I could find something that would remind me of upcoming tasks and appointments, let me prioritize items, and auto-reschedule when needed, that I would thrive. Maybe something is out there like that, but honestly I haven't found it, or haven't figured out how to make it work just right. And frankly, I really do like writing things down on paper, so I decided to come up with my own simple planning sheets.
I made a page for Home, Food, Blog, Monthly Appointments, and Weekly Summary. So far I'm LOVING it and I want to share it with you! You could keep these sheets in a binder, but I keep them pinned on a cork board on the wall next to my desk. See them in action in a picture from my 'school room' post,
here
. That way I can see them all whenever I'm at the computer and am able to jot things down as they come to mind. I'll briefly explain to you what each sheet is for.
Home
This page has a place for you to write down daily, weekly, and monthly tasks, and also any goals or ideas you have to work on related to your home. You can fill out the sheet and then use it month after month, or print one out each month and check things off as you go. Seriously, my home has been cleaner since I started using this. It is so easy to quickly look and see what needs to be done each morning. There are boxes next to each line that can be used to write the day/date that the item needs to be done on, prioritize your chores, check off that you did the item, etc.
download the Home planning page
Food
This page has a line for each day of the month so you can plan ahead up to a months worth of meals. In the second column you can write down what items you will need from the grocery store to make those meals. I do not take this sheet with me to the store (but you could!), I copy my list down onto another paper because I know it would never make it back home if I took it with me =) sometimes I plan a weeks worth of meals at a time and then go back and plan more, other times I'll fill out the whole month. You can use it however best suits your family's needs!
download the Food planning page
Blog
On this page, you can write down your blog posts for the month. This makes it easy to work ahead and not have to scramble each morning to get a post together. You can also write down your goals, ideas, etc. I like to write down ideas I have for future posts, items I need to be looking out for that are being shipped to me for review, things I need to be promoting, etc. Once again, the lines have boxes next to them so you can prioritize, mark completed, etc. Writing all this down has really helped me to be more organized and focused in my blogging. Obviously if you are not a blogger, you can disregard this page.
download the Blog planning page
Monthly Appointments
This is simply a page that has a place for each date of the month so you can write down your appointments. There is nothing special about this page over any other calendar type page, except that it coordinates with the others =)
download the Monthly Appointments page
Weekly Summary
This is the very best page! I was inspired by a page that I saw similar to this when I was browsing down the office isle at my grocery store. That page was designed for another use, but I saw how perfect the idea could work for organizing my life, so that is why I created these pages to begin with. You print out a new Weekly Summary page each week. There is a column for each day of the week and a row for each of the for other pages (Blog, Home, Food, and Appointments). At he beginning of each week, you look at your monthly pages and write down what you need to do in each one of those areas on your weekly summary. It is a nice way to review what is coming that week and to break your tasks down into smaller chunks. Really it's just a great page to be able to look down a column and see what you need to do that day, already separated by category, and also to see the week at a glance.
download the Weekly Summary page
I hope that I have explained these pages clearly enough. Feel free to ask any questions if you have any. If you are looking for a planning system that is more in depth than a simple page-a-day planner, but not as intricate as some I've seen people offer, then I encourage you to give this a shot! Let me know if you download these and what you think!
I'm offering these to you for FREE right now because of the awesome Print-A-Poloza that is going on right now at iHomeschool Network. Each day has a different theme, and you can go link up your free printables and check out everyone else's!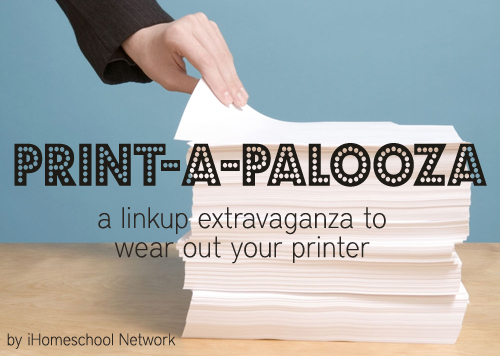 Happy Planning!