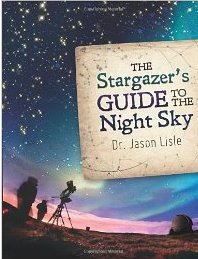 This year we are studying ancient history. This is actually our first year studying history, and since we school using the classical model we start at the beginning of time. Also keeping with the classical model, we try to integrate as many subjects together as possible, giving everything meaning and relevance. For ancient history, that would mean studying sciences like life science and astronomy.
Just this week we began at the beginning..."In the beginning, God created the heavens and the earth." (Genesis 1:1) so I couldn't think of anything better to start thinking about than the heavens! (I guess the earth would have worked too =) Luckily for me, I had recently received a review copy of
The Stargazer's Guide to the Night Sky
by Dr. Jason Lisle. This hardcover, full color book is amazing and brimming with so much information! It is a very advanced book, so by no means will I be reading it with my 4 year old, but it opened my eyes to a new realm of study.
As I read through this book, I took notes of concepts I would like to integrate with our study of history this year. I wrote down things mostly about the sun and the moon...things that I could easily observe and discuss with my young children. This book is an incredible resource that I can see myself going back to time and time again. It can equip any parent with great knowledge needed to instruct their children about things in the sky.
If you have an older child, especially one who has taken an interest to astronomy, I highly recommend this as a resource for them. The book is filled with incredible detail and beautiful pictures. It covers everything from how our eyes work (with really interesting ideas for how to make your eyes work better in the dark!) to when to see meteor showers, and even how to take pictures of the beautiful sky! It details everything you would ever want to know about the sun, moon, and how everything moves in the sky (like where and when to look for stars). If you have an interest in any of these things, this book is for you!
This book has made me want to grab a blanket, go lay in my yard, and just watch the sky above. Want to join me?
I received this book from New Leaf Publishing for the purpose of this review. I was not required to give a positive review and all opinions are my own.
Happy Stargazing!