I am so excited to begin this new school year! I am excited about all the new books, starting history, and obviously seeing my little ones grow and learn! We do not use a boxed curriculum, I usually pick items off of the options at
Classical Christian Homeschooling
.
This year my son is four and my daughter is two. Last year my son learned the basics of reading and some foundational math concepts, so we hope to expand those and then add history. All summer my son has been asking questions like "What people do a long long long time ago before they had windows?" so I thought what better time to start history =) Now I'm not talking about worksheets and tests for my four year old, I'm talking about reading lots of stories about the beginning of time! Classical education is a big advocate of living books, so you will see a lot of them on my list.
Reading/Writing/Language Arts
Math
History
Extras
I'm sure that I am missing something, but that is the bulk of it! My two year old will sit with us and do a variation of whatever we are doing. I will give her pages to color or things to count, and she will listen along while we read. When my oldest was two we did a set program, but I am seeing that is not needed for my second child who learns just as much (or more!) from simply observing and participating as she can.
Make sure to stop over to the Not Back to School blog hop (starting on Monday) to share what you will be doing this year and to check out many other family's plans!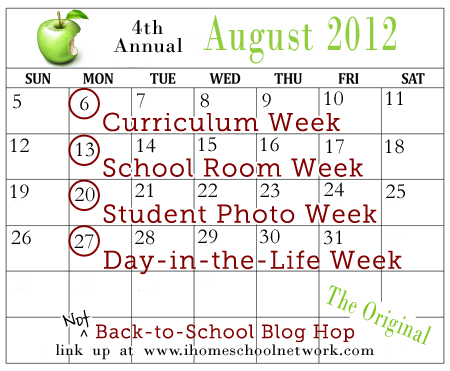 Happy Teaching!