Have you noticed the new button on my sidebar this month? I'm so excited to announce that
Classical Academic Press
is my newest sponsor here at Living and Learning at Home!
I first learned about Classical Academic Press when I read a review at
Teaching Stars
about Song School Latin. After reading that post, I knew that Song School Latin was something that I wanted to use with my children. I got it a few months ago to review and my kids have LOVED it since the minute we started. You can read my review at
The Curriculum Choice
.
I wanted to take today to share with you a little more about
Classical Academic Press
and what other great materials they offer. From their website:
Our mission is to produce and supply the finest classical curricula to the market today.
We seek to produce classical curricula and media with a clear design and structure, incremental and systematic instruction, all with a touch of delight, creativity and flair.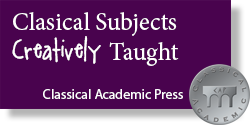 Great Curricula at Classical Academic Press
Classical Academic Press
offers more than just Latin (though you should definitely check out their complete line of
Latin curriculum
for grades 1-12). Here are a few great products to give you a taste of what they have for you! If something looks interesting to you, make sure to click over and look on the product page because there are
sample chapters
and other
free resources
to help you learn more!
The Art of Argument - introduces students to the logical fallacies
The Discovery of Deduction - explores the structure or reasoning
The Argument Builder - helps students to build a sound argument that is also persuasive.
This is a new series that will teach your child
how
to write by imitating excellent, whole-story examples of literature. Right now they have two books out, but it looks like this is going to be a 12 book series to take your child all the way to graduation! This series looks really neat and I'm excited to use it with my son in a year or two.
This four part series teaches children the overarching story of the Bible. I love that it teaches the Bible chronologically, which you could fit right in to your history studies (or just use it as a stand alone curriculum or or family Bible time). Along with the great stories and learning about the covenant that God has made with his people, this curriculum come packed with:
Passages to memorize
Maps
A Timeline
Audio book of the stories
---
I hope that this gives you a little taste of the great products you will find at
Classical Academic Press
. I have been so happy with the products that I have used from them, and I know that you will be too!
Have you used any curriculum from Classical Academic Press? Leave a comment, because I would love to hear what your favorites are!