This is an index of posts (from Living and Learning at Home and also other blogs) that have to do with Classical homeschooling. These are posts that have been linked up to Trivium Tuesdays here at Living and Learning at home. If you have a post that you would like to have included in this list, just link-up to the next Trivium Tuesdays and I will add your post!
This list is broken down by stage (Grammar, Dialectic, and Rhetoric) and then by subject. This way it will be easy to find ideas, inspiration, encouragement, etc. on just the topic you need! It will be an ever-growing list, so check back often!
If one (or more!) of your blog posts has been listed, feel free to grab this button to place in your post, or anywhere on your blog.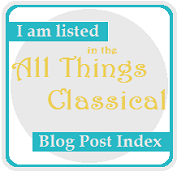 Weekly Wrap-Ups and Lesson Plans:
All Ages:
Grammar Stage:
History
-
Geography -
Science/Nature
-
Latin (and other languages)-
Dialectic Stage:
General -
Science
-
Literature
-
History -
Logic -
Physical Education
-
Rhetoric Stage:
General
-
History
-
Geography
-
Literature
-
Writing -
Science -
Math -
Latin
-
Economics
-
**** If I have included one of your posts in this list, but you would rather it not be here, please let me know and I will remove it immediately!
Also, if you think that your post should be categorized differently, let me know and I'll change it! ****