I'm excited to announce that I am now a reviewer for
The Curriculum Choice
! My first review is today and it is for
Grapevine Studies
. Take a peak here, and then I hope you will head over to
The Curriculum Choice
to read the rest!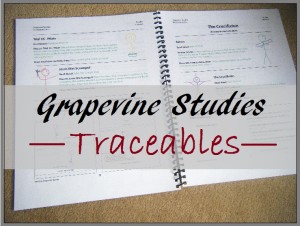 I'm guessing that you have heard of
Grapevine Studies
...what I want to talk about today is their new
traceable
studies. More important than (probably) anything else I have to say is that my children LOVE them. They ask to do the study every night and are very disappointed when we skip a night.
We are working our way through the
Resurrection
study right now, preparing for Easter. These traceables are designed for 3-5 year olds and you can choose from the Beginner studies or the Multi-level studies. In these lessons, a light gray stick figure is already drawn in each box so all your youngster has to do it trace over it. Tracing is a great activity for little hands and minds, teaching them how to make good work on their own.
This Resurrection study takes your family from the Last Supper through the Ascension of Jesus in nine easy lessons. Each lesson tells you what Bible verses to read, what colors to use in your drawings, words to look up in a Bible dictionary, a memory verse, and review questions. You can choose to incorporate all of those things into your lesson or you can pick and choose which elements you would like.
What I love the most is...